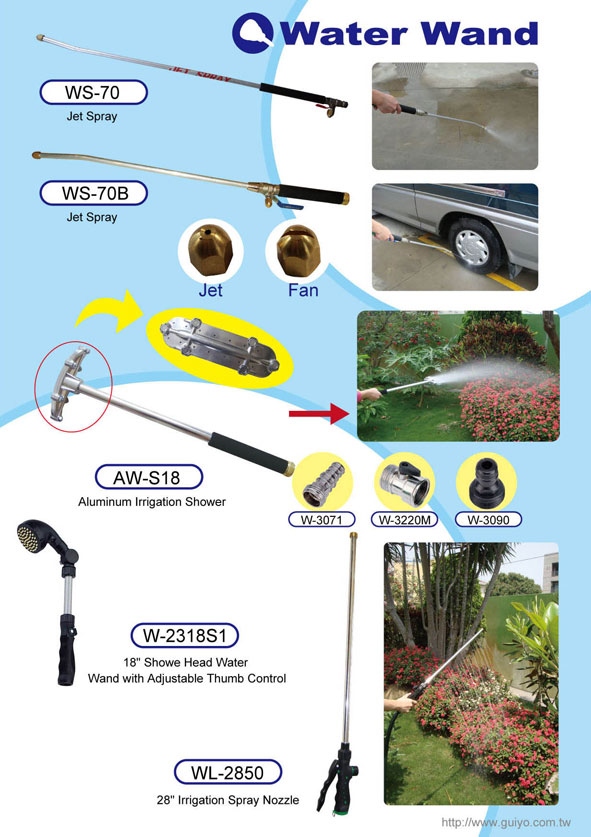 1. This product is a long-handled water wand, the characteristics of Is it has a long grip
2. The front of this product has a curved sprayer, can let the sprinkling range wider
3. Compared with the general sprinkler, it can manually sprinkle the higher position
4. Compared with the water pipe sprinkler, with long-handled water wand is more stability
5. There are many holes in the sprinkler head, so that it has the same effect with the shower head, and because the horizontal surface design, it can make a wide range of sprinkling
1.本產品是一種長柄灑水器,其特點是手柄長
2.本產品正面有一個彎曲的噴霧器,可以使灑水範圍更寬
3.與普通灑水器相比,它可以手動灑在較高位置
4.與水管灑水器相比,長柄水棒更穩定
5.噴頭上有許多孔,因此它與淋浴頭具有相同的效果,並且由於水平表面設計,它可以進行多種灑水
Horticulture can be said to be gradually leisure hobby. And some view plants, it is not inconvenient to water. If use the water pipe, because it is not good control, it may be waste of water. in this case, long-handled water wand is a best choice. Because long-handled water wand has a long handle, it's very stable to use. And because it can lock the watering rang. it is more save water than ordinary sprinklers.
園藝可以說是逐漸喜歡的休閒愛好。 有些人照顧植物, 如果使用水管
並不方便
,由於控制不好,可能會浪費水。 在這種情況下,長柄水棒是最好的選擇。 由於長柄水棒手柄長,使用起來非常穩定。 因為它可以鎖定澆水範圍。 它比普通灑水器更省錢。
1 Remove the handled and sprinkler from the package
2 Mix the sprinkler head with the handled
3 Mix the long-handled water wand with the water pipe, then take to the yard.
4 Turn the faucet away and start sprinkling
1從包裝中取出手柄和灑水器
2將灑水噴頭與手柄接合
3將長柄灑水器與水管接合,然後到院子裡。
4將水龍頭轉開,開始灑水